GF032
L/A/B: Psychoacoustics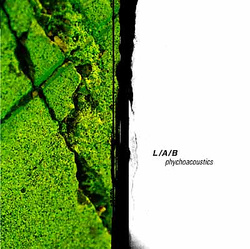 Live improvisations on electronics and mechanics treated with scientifically approved methods; together with composed sections interpolated with sounds of science; illustrates the musical sounds of the human psyche.
Along any sensory continuum the adaptation level is the level we are used to. As listeners adapt to greater amounts of L/A/B music, there is a gradual shift along the continuum toward greater pleasure. At one extreme is the beauty that is associated with a sense of lightness and balanced order. It does have a faintly decorative quality to it. At the other extreme we have the much darker form of beauty that we associate with profundity and truth. The distinction between these two extremes of beauty has less to do with the objects under consideration, whether a flower, or a piece of music, than it does with the attitude of the considerer of the object.
The dominating mythology of our time is science. Scientific methods applied to the arts can be used to enhance the receptability of the listener. L/A/B helps the listeners to program their own brains and to develop their own sensitivities.
L/A/B "Psychoacoustics"
§ 1. Kaluli Longhouse Ceremony
§ 2. Voie IV
§ 3. The Stone that Hides the Ant Heap
§ 4. Masking; Loud
§ 5. Telefonbau Normalzeit
§ 6. Noisestudy: Brown – Pink – White
§ 7. Noisestudy: White – Pink – Brown
§ 8. Noisestudy: Brown – White – Pink
§ 9. Noisestudy: Pink – White – Brown
§ 10. 2050 °C
§ 11. Klockan Är Elva
§ 12. Magnetofonowa
§ 13. Alla Gamla
§ 14. Ontological Time
§ 15. Statement
L/A/B Staff:
Laukka, Petri
Aneheim, Jonas D
Björkk, Henrik N