TE101
Nadja: Skin Turns to Glass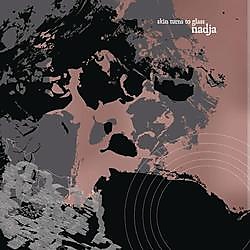 Skin Turns to Glass is the grotesquely pretty title of what's bound to be one of the more suffocating atmospheric-metal albums released this year — or, to be more accurate, re-released. Canadian veterans of the noise scene with several albums to their name, Aidan Baker (guitars, vocals, woodwinds and drum machines) and Leah Buckareff (bass and vocals) have re-recorded and rearranged this monumental slab of dirge-like, ethereal metal that's the perfect soundtrack to your deepest fears. The new and improved Skin Turns to Glass, originally released in 2003 by the CD-R label Nothingness Records and now out of print, appears on The End Records.
Comparisons to Sunn O))), Pelican and Om are fair but not really necessary, because Skin Turns to Glass presents Nadja's wholly distinct, diverse and dramatic soundscapes. "Sandskin" prickles with programmed percussion and epic swirls, while the title track is an uncomfortable swarm of aliens and humans in an orgy of effects. By comparison, not much happens in "Slow Loss." With three heavily layered songs plodding past the 14-minute mark and an at-times barely audible, untitled closing bonus track clocking in at nearly 30 minutes (with a brutal surprise ending), experiencing the 80 minutes of Skin Turns to Glass is a protracted process that may just ruin your day — but in the best possible way.
by Michael Popke c/o sea of tranquility.
Track Listing:
1) Sandskin
2) Skin Turns to Glass
3) Slow Loss
4) Untitled