PFL028
Alcest: Souvenirs D'un Autre Monde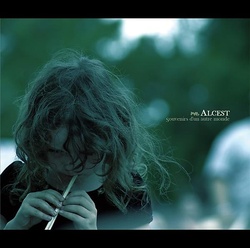 In co-operation with Prophecy Productions, Alcest has been a band that we've been quite obsessed (and that's lightly putting it) with for the last while, especially considering we're great admirers of pretty much anything sole-mastermind and multi-instrumentalist Neige is involved in (be it in PESTE NOIRE, MORTIFERA, and more recently the wonder known as AMESOEURS).
Nevertheless, with Neige being one of the most accomplished musicians within France's black metal scene, he has already made an immense impression with Alcest from the first demo (which was pretty much nestled in black metal and was Neige's first plunge into the genre likewise), to the magnificent debut EP 'Le Secret'.
Although 'Souvenirs D'un Autre Monde', Alcest's long-awaited debut full-length, treads much further from Alcest's black metal origins, the pure expression that has defined Alcest – and Neige as a musician – flourishes in full-force with this moving and emotionally driven work. To listen to 'Souvenirs D'un Autre Monde' (which translates into Memories Of Another World) is to experience a world free of pain, darkness, and despair, and to enter a kingdom of beauty and harmony. The scenario that such an album paints is one where pure joy and happiness triumph through waves of intense cascading light, where innocence prevails, and where the longing for nostalgia reigns supreme. The best way to describe 'Souvenirs D'un Autre Monde': overwhelming.
The tracklisting for "Souvenirs D'un Autre Monde" goes as follows:
1. Printemps Emeraude
2. Sounvenirs D'un Autre Monde
3. Les Iris
4. Ciel Errant
5. Sur L'autre Rive Je T'attendrai
6. Tir Nan Og
Look for 'Souvenirs D'un Autre Monde' to be released in North America early-mid August, in cohesion with Prophecy.