ALIEN77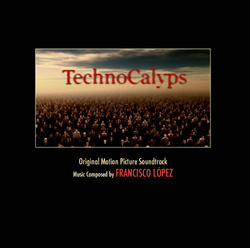 Digital Formats:
FLAC Lossless
320 Kbps MP3
Variable Bit Rate MP3
★

(Includes Free Downloadable Album)
Continuing his "exploration of the universe of broad-band noise from the real world", Francisco López delivers his latest tour de force, the original soundtrack to the film TechnoCalyps by Frank Theys.
TechnoCalyps is a documentary in three parts on 'Transhumanism', which deals with the subject of human beings no longer being the driving force of civilization. Director Frank Theys raises the question of whether we are prepared to accept the prospect that humanity is not the end of evolution.
Francisco López' soundtrack compliments the film wonderfully. Anybody familiar with the sound art of the composer will understand why this is a sensible pairing. Francisco's ability to utilize everyday sounds that most people barely even notice, and transform them into sound art is quite astonishing.
The original soundtrack opens with an intro that is based on repetitious industrial sounds that bring to mind heavy machinery heard from a distance. It is much more difficult to discern Lopez' source material on this release than on many of his previous works. While the recording features his trademark ebb and flow of quiet passages leading through crescendo to louder climaxes, the industrial nature of TechnoCalyp makes it more difficult to absorb than many of his recordings centered on environmental recordings. The sound experience found on this latest recording can be compared somewhat to Lopez's highly regarded Buildings (New York) which features recordings of the actual sounds of the buildings themselves.
This is our sixth release with Francisco López and is packaged in a full color digipak featuring stills of the film "Technocalyps". Also available from Alien8 Recordings are the following releases by Francisco Lopez: Untitled 104, Untitled 123, Untitled 180 and Live in Montreal.