ALIENDR01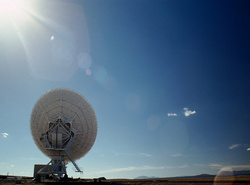 Digital Formats:
FLAC Lossless
320 Kbps MP3
Variable Bit Rate MP3
thisquietarmy's Transmissions is a conceptual soundtrack to Christy Romanick's Very Large Array book, which features a series of colored photographs shot in San Agustin, New Mexico. Christy, a photographer from Boston, captures the beauty and eeriness of the VLA satellites occupying an isolated desert landscape, whereas thisquietarmy recreates the transmissions received through its various hybrid configurations (BnA, CnB, DnC). Different sounds from outer space are captured through the different configurations such as the first televised transmission returning from space, signals from lost spacecrafts and random outer space phenomenon.
The book/soundtrack, limited to only 75 physical copies, was originally released on Christy's imprint, Space30a. The digital release features an exclusive 15-minute track and includes the electronic version of the book.