utech024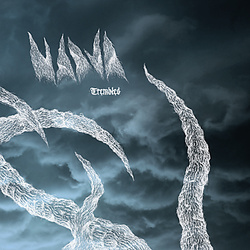 Artist: Nadja
Title: Trembled
Format: CD Edition: 900
Length: 65 minutesTrx: 6
Recorded: 1-4. Recorded by Aidan Baker at a private event, Toronto, Canada > March, 2006.
5-6. Recorded by Scott Slimm at Johnny Brenda's in Philadelphia > June, 2008.
Aidan Baker: guitar, vocals, drum machines. Leah Buckareff: bass.
1.Breakpoint
2.No Cure for the Lonely Audio
3.Corrasion
4.Tremble
5.Stays Demons
6.Tremble Audio
Trembled has returned, triumphantly. Released by Utech Records in the summer of 2006 on limited cdr. The principal live recordings from Toronto have been remixed/remastered and include a rare performance of Swans "No Cure for the Lonely." The core of the release, though, is "Tremble", a cascading improvisation of drift and atmospherics revealed to audiences on an occasional basis. The track is telling of the fluidity with which Nadja create and why the band has become so highly regarded. "Breakpoint" and "Corrasion" complete the set. Exclusive material has been added in "Stays Demons" and a second version of "Tremble" recorded by Scott Slimm in Philadelphia. Illustration by Justin Bartlett. The ultimate document of Nadja at their most electric and empyreal.