ALIEN79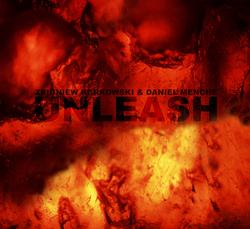 Digital Formats:
FLAC Lossless
320 Kbps MP3
Variable Bit Rate MP3
★

(Includes Free Downloadable Album)
Describing this debut collaboration between Zbigniew Karkowski and Daniel Menche as heavy would be a serious understatement; gruelingly brutal would be a much more fitting description. Unleash is part one of a pair releases based around the same recording sessions. Daniel Menche independently mixed the material in Portland, Oregon and the next release will feature the mix of Zbigniew Karkowski.
While this marks the third outing for Menche, the master of physical noise on Alien8 Recordings, we also feel very fortunate to finally have an offering from composer Zbigniew Karkowski, who has been residing in Tokyo Japan since 1994. Years back we announced we would be releasing one of Karkowski's works which never materialized, so it's exciting to finally be able to further expose his art.
Daniel Menche has long been regarded as one of the heaviest hitters in the North American noise movement. He has been riding a wave of well-received records over the last few years and seems to be on the top of his game. Zbigniew Karkowski is a sound artist with a penchant for working with extreme sound ranging from near-silence to crushing noise. He was an ex-member of The Hafler Trio and was a student of legendary composers Iannis Xenakis.
Listening to Unleash one could easily draw comparisons to early power electronics in the sheer relentlessness of the music, imagine an instrumental Whitehouse and you are getting the idea. It's a little more forgiving in the treble trauma department than the output of the aforementioned electronic pioneers, but nonetheless absolutely teeth rattling at times. It's not so much that any particular cut is the most brutal blast of noise but more a matter of how the recording works as whole. The I.D. marks that define individual tracks have only been worked into the piece to provide the listener some mercy.
Still available from Alien8 recordings are Beautiful Blood and Eye on the Steel_, which was released on the erstwhile Alien8 sub-label, Substractif.